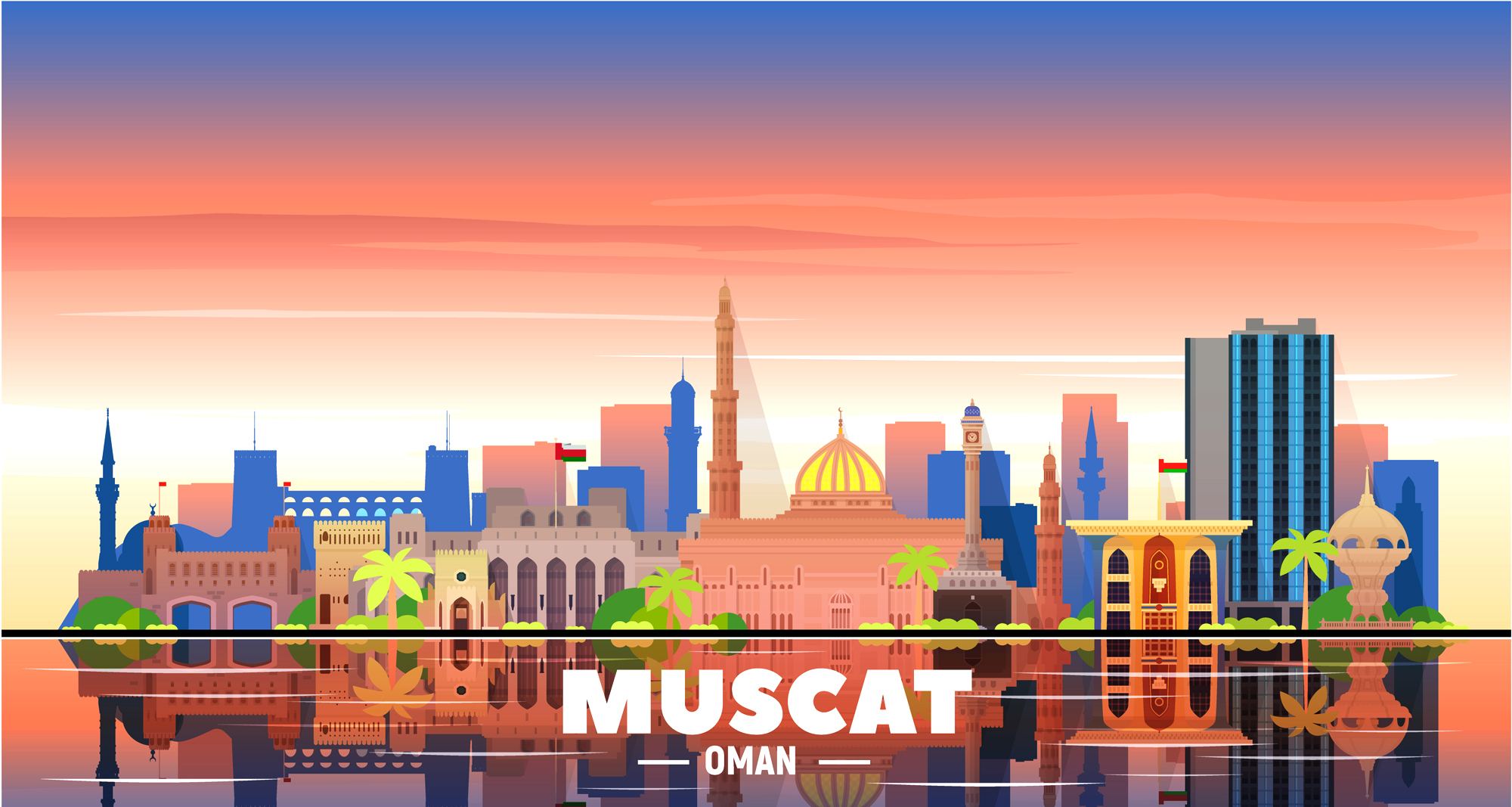 You couldn't get two more contrasting neighbors. While Dubai is like walking into Disneyland in the desert, Oman is like waking up in an Arabian Arcadia. Infinitesimal desert dunes, sandstone forts that segue seamlessly into surrounding blonde sands, wadis filled with turquoise water that feels like stolen sanctuaries when you dive into them, and three seas to choose from for coastal escapism.
This desert haven wrapped by mountains is a peaceful and uncrowded spot with five-star hotels, white sand beaches and warm waters.
As well to some of the best diving in the world, it has a souk to rival Istanbul's Grand Bazaar, only without the all the jostling. But that's not even half of it.
Oman is opening to tourism, and some of its greatest treasures are found only a day or so away from the capital.


Capital:

Muscat

Religion:

Islam

Timezone:

GMT+4

Electricity:

200 V to 240 V with type G – British origin 3 pin sockets

Country Code:

+968

Drinking Water:

Drinking from bottled water is advisable. (Min Cost : 100 baisas)

Languages:

Arabic is the Official language of Oman

English is widely spoken and written

Currency:

Omani Rial (OMR)
The local currency used in Oman is called Omani Rial (OMR) with subunit Baisas. 1 OMR = 1000 Baizas (Bz) . Money exchange centers are available at Muscat International Airport as well as in major cities in Oman against the legal photo ID. Credit cards are widely accepted.
Advisable to transact with cash, credit cards, and traveler cheques in US Dollars. For daily exchange rates click here www.xe.com
ATMs can be found throughout most cities. Foreign Traveler cheques can get exchanged but only in bigger hotels.

CLIMATE / WEATHER 
Oman has a subtropical climate.
October / March - This is an ideal time to go around the country as the temperature is moderate around 20º - 30º Celsius.
June to September - The best time to head to the Dhofar region in the south as the climate is affected by South East Monsoons resulting in the temperature dropping an average of 23% Celsius.

FOOD :
Kahwa:

A cardamom-flavored Omani coffee.

Omani halwa:

An accompaniment for Kahwa, the Sweet Halwa, as the name suggests, is an Omani special dessert served with dates.

 

Shawarma:

 Meat cooked on a spit and wrapped in pitta bread.

Sewyah:

 A rich, Arabic pudding prepared out of sweet noodles.

Sea-food:

Given that Oman is a coastal country, seafood, particularly Mashuai (spit-roasted kingfish), is a specialty here.

SHOPPING
 

Frankincense:

 The Dhofar region, being a producer and trade point of the aromatic Frankincense, it is only relevant that the visitors don't miss on buying it when here.

Local honey:

Given that Oman is a mountainous region, extraction, and sale of local, organic, and wild honey happen in a significant quantity here

Rosewater:

 The fragrant rose water is a 'must buy' when in the Nizwa Market.

 

Silver:

 Take back home a few intricately-designed, authentic Omani silverware with you.

SAFETY 
Oman is one of the safest countries to travel to as long as you follow a certain code of conduct. The country is known for having one of the lowest crime rates in the world.
The true meaning of "Middle Eastern Hospitality" will be found in the country.
Sole Lady Traveler: It is one of the few Arab countries where women can travel without much intervention. Advisable to sit always backside in the taxi if traveling alone in the vehicle and if in the group then sit next to the driver. Carrying a family photo and wearing a wedding ring will help while traveling even if you do not have the same.
Passport & ID: In case of loss of passport or other official documents please contact Embassy. It is advisable to store the passport and original documents in a safe place and carry a photocopy of the passport while leaving the hotel.

PUBLIC TRANSPORT 
Taxis & Mini Vans along with Mwasalat are the options for public transport.
Meter & without meter taxis are available. If no meter is available then, you will need to negotiate the price before you enter the car. Minivans are cheaper options for travel. Language could be a barrier while traveling, majorly in the interior of the country. In Muscat, the Capital of the country few drivers can understand the English language. Mwasalat, a Government public transport offers intercity transportation via red buses that follow a set route; and red-white metered taxis that can be ordered using an app.

CAR RENT
With International driving licenses, tourists can drive rental cars Contact us for car rental inquiries or to rent from our fleet of cars.
 
OPENING TIMINGS
Friday & Saturday are the official weekend days with Friday being the prayer day. The Moon calendar is the base for Public holidays calculation.
Forts: Saturday to Thursday 9:00 to 16:00 hours and on Friday from 8:00 to 11:00 hours 
The Sultan Qaboos Grand Mosque: 8:00 to 11:00 hours from Saturday to Thursday. Closed on Friday and on public holidays. The only mosques in Oman which can be visited by non - Muslims.
Muttrah Souk: Saturday to Thursday 9:00 to 13:00 hours & 16:30 to 20:30 hours.
                         Friday 09:00 to 11:00 hours & 16:30 to 20:30 hours 
Big Supermarkets like Lulu / Carefore: Daily 8:00 to 23:00 hours
Banks: Sunday to Thursday 8.00 – 14.00 hours
Government Offices: Sunday – Thursday 7.00 – 14.30 hours
Fishmarkets: Worth visiting early in the morning. 

EMERGENCY NUMBERS : 
In case of an accident or any emergency contact ROP (Royal Oman Police).
Emergency numbers of Police / Ambulance / Fire brigade: 9999
Emergency numbers of Mountain Valley Holidays: +968 92333677 / +968 79463343.